| | |
| --- | --- |
| Benjamin Netanyahu meets with India's Prime Minister Narendra Modi | |
In a rare meeting on the sidelines of the 69th Session of the United Nations General Assembly in New York, this September, India's Prime Minister Narendra Modi met Israeli counterpart Benjamin Netanyahu.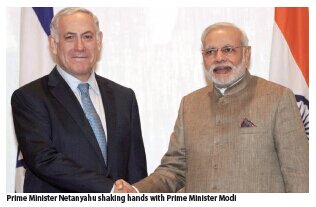 They discussed a wide range of issues including defence cooperation and the situation created by the Islamic State (IS) in West Asia.
During the 30-minute meeting, Netanyahu invited Modi to visit Israel soon. Modi had come to Israel in his capacity as Chief Minister of Gurajat province, earlier this year, a position he held since 2001.
One of the main topics of discussion related to cyberdefence, India is focusing on building its own cyber-defense systems, in collaboration with other countries including the US and UK.
While in New York, Modi discussed this topic and other security issues during a subsequent meeting with US President Barack Obama.
Please login or register to see the full article