| | |
| --- | --- |
| Thailand apologises for Adolf Hitler gesture | |
A senior Thai Cabinet minister met Israel's Ambassador to Thailand Simon Roded, after the Israeli diplomat said he was "saddened" by a government propaganda film that includes an image of a Thai school child painting a portrait of Adolf Hitler.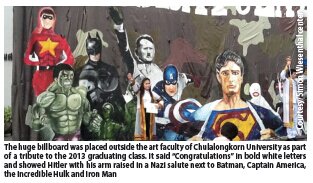 The film was commissioned by the Office of Thailand's Prime Minister Prayuth Chanocha as part of a campaign to promote traditional Thai values. Prayuth, who led a military coup in May, espouses 12 values in his vision of Thai national identity that his government requires taught in the classroom.
The opening of the film, which was screened nationwide in cinemas 6 December, included a sequence in which a smiling boy is applauded by one of his classmates as he  paints Hitler's portrait against a red background and a swastika. "I have told the ambassador that the director did not intend to offend anyone," said Pannada Diskul, from the Prime Minister's office.
Please login or register to see the full article