| | |
| --- | --- |
| JAPAN'S PRIME MINISTER VISITS ISRAEL TO STRENGTHEN ECONOMIC TIES AS PART OF A MIDDLE EAST TRIP | |
Japanese Prime Minister Shinzo Abe made a recent trip to the Middle East in January. The trip was the first by a Japanese prime minister in nine years. The tour included stop offs in Egypt, Jordan, Israel and the Palestinian Authority.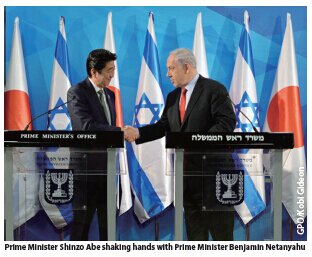 During his stay in Egypt, Prime Minister Abe attended the 9th Joint Conference Egypt Japan Business & Investment Seminar. In Jordan, Abe met with Jordanian King Abdullah II where they discussed areas to help counter Islamic State threats and Japan's contribution to more U.N. peacekeeping operations and financial assistance.
Prime Minister Abe arrived in Israel on 18 January. This was Abe's first visit to Israel. He was also joined by a delegation of over 100 government officials and heads of leading Japanese global companies. Some of the company executives were visiting to evaluate technological developments designed for use in the 2020 Olympics in Tokyo.
Also in the framework of the visit, the Japan External Trade Organization held a business conference, which was opened by the two prime ministers, Israel's Prime Minister Benjamin Netanyau and Prime Minister Abe. More than 500 Japanese and Israeli businesspeople attended, which included Israel's Economy Ministry holding a special exhibition on Israeli innovation.
During the meeting between the two prime ministers on 19 January, Prime Minister Netanyahu said: "Prime Minister Abe, it is a pleasure to welcome you and your delegation to the Prime Minister's Office in Jerusalem. It's an opportunity to reciprocate the warm hospitality you showed all of us last year when we visited Japan. Prime minister, your visit clearly demonstrates your own commitment to strengthening the relationship between Israel and Japan. This is a commitment I fully share."
Israel's President Reuven Rivlin also held a working meeting with Prime Minister Abe. Rivlin began by congratulating him on his re-election. "Mr. prime minister, we know that you are making many efforts to bring peace to the whole world, and to our region. We know you have excellent relationships with all our neighbours, and it is very important for us that as friends you can help us," he noted.
Prime Minister Abe thanked the president for his warm welcome on what is his first visit to Israel. He said, "We believe that this is a timely visit, as it coincides with seventieth anniversary of the liberation of Auschwitz. Moreover, I am determined to never allow such tragedies to be repeated, and based on this commitment and determination, I am especially committed to making a proactive contribution to world peace, and the creation of a world free of war and discrimination."
Please login or register to see the full article