| | |
| --- | --- |
| Red Beret given to Japanese IDF soldier | |
Sol Kikuchi, 21, finished his gruelling Israel Defense Forces (IDF) combat training and received the coveted red beret of the Paratroopers Brigade. His thrilled parents, whom he had not seen in a year and a half, flew from Japan to attend the ceremony.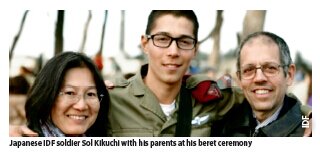 Tokyo-raised Sol has a Japanese Buddhist mother and an American Jewish father, and went to Israel to serve in the IDF last year.
Sol joined the IDF and served in a combat unit. As the only soldier from Japan, his enlistment and training process was complicated, but he was determined and never gave up.
Kikuchi's touching story was first reported by Israel's Hayom some 10 months ago. Speaking from his adopted home of Kibbutz Hazorea, Kikuchi told the newspaper he was preparing to enlist and begin the IDF's three-month Hebrew language course, and vowed he would then volunteer to serve in a combat unit. "If I am serving, I might as well go all the way and serve in a combat unit like the Paratroopers Brigade," he said. Now he is happy to be realising his dream.
Please login or register to see the full article