| | |
| --- | --- |
| China to host Commemoration of 70th anniversary of shanghai ghetto liberation | |
China and the World Jewish Congress (WJC) will, for the first time, be hosting an event in September in Shanghai to commemorate the 70th anniversary of the liberation of the Shanghai Ghetto and the end of WWII in China in September 1945.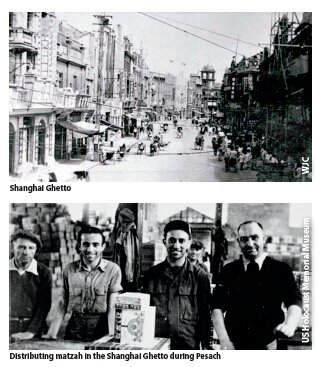 The event was announced following a meeting in London between WJC CEO Robert Singer and PRC Minister of the Overseas Chinese Affairs Office Qiu Yuanpin.
"Shanghai was the only city that opened its gates for Jewish refugees. We will never forget what this city has done for us," Singer said during the meeting.
Jewish refugees fled Europe for China during WWII. The Shanghai Ghetto, formerly known as the Restricted Sector for Stateless Refugees, was home to about 23,000 Jewish refugees in Japanese-occupied Shanghai until its liberation by the Chinese on 3 September 1945 at the end of the war.
"We will commemorate, for the first time, part of the Holocaust that tends to get less attention," commented Ronald S. Lauder, president of the WJC. "This historic event also marks another step towards strengthening the bonds between the Chinese and Jewish people." Lauder will chair the event, which will include 100 WJC representatives from Jewish communities around the world, representatives of China and survivors of the Shanghai Ghetto.
Please login or register to see the full article