| | |
| --- | --- |
| Ambassador in Thailand disappointed with Hitler comments | |
Israel's Ambassador to Thailand expressed extreme disappointment over statements made last month by a minor Thai royal denying the holocaust of WWII.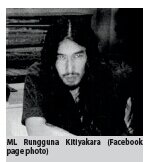 Ambassador Simon Roded expressed "disappointment and extreme regret" over the comment by ML Rungguna Kitiyakara, a descendent of 19th-century King Rama V of Thailand, the Bangkok Post reported.
On his Facebook, ML Rungguna praised Nazi leader Adolf Hitler as a genius and patriot, and said the holocaust was "Propaganda". Mr Roded's statement, written in Thai, said it was "a shame that someone with such opportunity, and education... would perpetuate a myth that history has proven false." Around 6 million Jews were murdered by the Nazis during the Third Reich.
Please login or register to see the full article