| | |
| --- | --- |
| INDIA'S PRESIDENT MUKHERJEE MAKES HISTORIC LANDMARK VISIT TO ISRAEL | |
India's President Prenab Mukherjee made an historic landmark visit to Israel in October. It was the first-ever official visit to the Jewish state by a president of India. While in the region for a six-day, threenation visit, he first visited Jordan and Palestinian Territory, and then spent three days in Israel.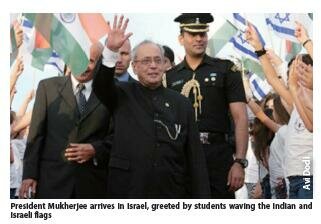 The visit to Israel marked an historic political milestone and reflected the continued strengthening of relations between the two countries. Israel and India are engaged in a range of issues of bilateral interest, including co-operation in agriculture, education, science and technology, and the visit is expected to further cement bonds and enhance mutual understanding.
During the welcome ceremony, Israel's President Reuvan Rivlin commented: "Even as a president of a country as wonderful as India or Israel, it is not every day that one truly has the chance to make history. But today, we together are making history. For the first time ever, as President of the State of Israel, I have the honour of saying to you, as President of India, 'Welcome to Israel, welcome to Jerusalem.'"
While in the country, President Mukherjee also held talks with President Rivlin and Prime Minister Benjamin Netanyahu. He visited the Holocaust memorial and participated in a community reception and was also the guest of honour at a state dinner given by President Rivlin. President Mukherjee was invited to address a special plenary meeting of the Israeli Knesset (Parliament).
The visit concluded with a ceremony at Jerusalem's Hebrew University, where President Mukherjee received an honorary doctorate in recognition of his long-time exemplary public service as a leading diplomat and champion of social and financial reform. The conferring of the doctorate also marked the ongoing academic co-operation between the two countries.
One of the key objectives of the visit was the signing of two bilateral agreements, one dealing with the issue of double taxation and the other with cultural exchanges. Israeli Ambassador to India Daniel Carmon and Eastern Region Secretary of the Indian Ministry of External Affairs Anil Wadwah joined their respective presidents in signing the two agreements.
Please login or register to see the full article