News
| | |
| --- | --- |
| Hong Kong pop-up shop showcases Israeli design | |
The Consulate General of Israel in Hong Kong is showcasing the hottest and most unique Israeli design at a popup shop in the PMQ complex in the fashionable Soho district of Hong Kong.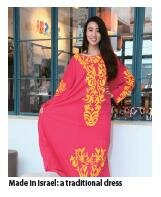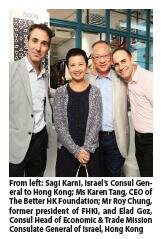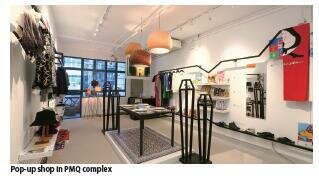 The grand opening, with a fashion show, was held on 22 October, and the pop-up shop (at Shop 504, Staunton) will be open to the public until 19 November.
About 25 established designers and promising new talents of their own design fields are offering their perspectives on Israeli design through highend products in fashion and accessories, jewellery, paper toys, textiles, furniture, kitchenware, homeware, and solutions in branding and imaging.
The creativity of these Israeli designers extends from the use of new or green materials to innovative and modern methods of processing. And some of them focus on traditional hand craftsmanship handled with cutting-edge techniques.
Please login or register to see the full article
| | |
| --- | --- |
| Myanmar's top military officials visit Israel | |

Myanmar's Senior General Min Aung Hlaing made an official visit to Israel in September.

The delegation members included Lt-Gen Mya Tun Oo of the Office of the Commander-in-Chief (Army), Maj-Gen Maung Maung Aye, Chief of Staff (Navy) Commodore Moe Aung, Chief of Staff (Air) BrigGen Maung Maung Kyaw, Commander of Central Command Maj-Gen Soe Htut and other senior military officers.

The members of the delInternational Airport by Israeli egation were seen off at Yangon Ambassador to Myanmar, Daniel Zonshine and military officials.

Please login or register to see the full article

 

| | |
| --- | --- |
| Lithuania names a street in honour of Ona Šimaitė | |

Vilnius Mayor Remigijus Simasius recently unveiled the street sign on the first street in Lithuania named for a non-Jew, a woman who risked her life to save Jews during the Holocaust.

The September ceremony was at Simaites Street, where a crowd of several dozen Jewish people convened to honor Ona Šimaitė, a Vilnius University librarian whose actions helped rescue numerous Jews from the Vilna Ghetto.

Šimaitė, who was recognised in 1966 as a "Righteous Among the Nations" – a title conferred by Israel's Yad Vashem Holocaust Museum on behalf of the State of Israel — arranged for the rescue of Jews, including children, by other Righteous Among the Nations.

She was also responsible for the forging of identity documents, helped smuggle provisions into the Vilna Ghetto, and carried letters between ghetto inmates and residents of the city outside the ghetto gates, according to defendinghistory.com, a website in Lithuania that reports on Jewish news.

Please login or register to see the full article

 

| | |
| --- | --- |
| AHAVA SKINCARE PRODUCTS SOLD TO CHINESE COMPANY FOSUN INTERNATIONAL | |

Perhaps one of the most iconic Israeli product brands in the world, Ahava cosmetic products from the Dead Sea, is to be purchased by China's Fosun International.

Ahava Dead Sea Laboratories Limited (Ahava literally means "Love" in English) was the first Israeli cosmetics company to manufacture skincare products made of mud and mineral-based compounds from the Dead Sea. Ziva Gilad, a spa technician, came up with the idea of marketing Dead Sea mud after watching women tourists scooping up the mud to take home. Ahava was founded in 1988 selling bottles of body scrub to tourists, generating US$1 million that year.

Ahava is the only cosmetics company licensed by the Israeli government to mine raw materials at the Dead Sea. On the Jordanian side of the Dead Sea, there are approximately 50 small companies producing cosmetics, but only 15 have a global presence.

The company employs around 200 employees, 180 of them in Israel. The US is the largest overseas market for its products. It also has flagship stores around the world in Israel, Germany, Hungary, the Philippines and Singapore.

Gaon Holdings Ltd, owner of 16% of Ahava, announced in September that an agreement in principle had been signed by Ahava's existing shareholders to sell all or part of their shares in the company. Besides Gaon Holdings, the main shareholders in Ahava are Shamrock Israel Growth Fund, the Livnat family and Kibbutz Mitzpe Shalem. The agreement in principle states that the value of Ahava's business for the deal will be NIS 300 million.

Please login or register to see the full article

 

| | |
| --- | --- |
| President Rivlin hosts diplomatic corps for Rosh Hashanah | |

Israel's President Reuven Rivlin, together with his wife, hosted foreign ambassadors and members of the diplomatic corps based in Israel, representing over 100 countries, for a reception held on 31 August at the President's Residence, in honour of Rosh Hashanah, the Jewish New Year.

President Rivlin welcomed foreign ambassadors, diplomats, honorary consuls and representatives of the Israeli Ministry of Foreign Affairs, and said: "The State of Israel was not established to be an island in a hostile sea. As set out in the Declaration of Independence, Israel strives for good relations with our neighbours and peace in the region. Our treaties, with Egypt and Jordan, stand as witness to this strong desire and show our willingness to make painful compromises, if there is a real chance for peace and security, and I believe there is a real chance for peace and security."

Dean of the Diplomatic Corps, Ambassador of Cameroon, Henry Etoundi Essomba, who also addressed the event, thanked the President and his wife for their warm welcome and hospitality, and expressed his warm wishes for all of Israel and the Jewish people for a happy new year. He spoke of the significant challenges the world has faced over the past year, and his hope for a better year to come. He said: "In this moment of celebration, we must also acknowledge the reality that the past year has been a challenging one for the entire world, with regard to security, economy, and humanitarian and ecological crises which have shaken the world throughout."

Please login or register to see the full article

 
More Articles...
Israel's Deputy Foreign Minister visits Vietnam
Nazi train worth millions of dollars has likely been found in Poland
ASIAN CARRIERS NOW GETTING CLEARANCE TO FLY ISRAEL
Israeli bees sent to Japan following mass death of local hives
<< Start < Prev 1 2 3

4

5 6 7 8 9 10 Next > End >>