News
| | |
| --- | --- |
| President Rivlin hosts ambassadors to Asian-Pacific countries | |
Israel's President Reuven Rivlin hosted at his residence around 20 Israeli ambassadors and diplomatic mission heads to Asian-Pacific countries. The gathering took place on 12 March.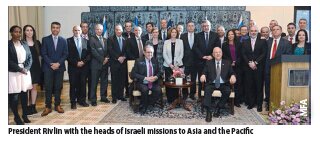 Rivlin welcomed them and thanked them for their work in representing the State of Israel. "The friendly relationship between Israel and the rising powers in Asia represents an economic and strategic opportunity for both sides." Rivlin said.
"As a state which seeks new markets for trade, the connection with Asia is more important than ever to Israel. Israel is more and more turning to face the East, we are witnessing cross-fertilization in the fields of education, industry, tourism, and security.
Please login or register to see the full article
| | |
| --- | --- |
| Netanyahu re-elected Prime Minister | |

Benjamin Netanyahu's Likud Party won Israel's March election. The final results showed a stunning turnaround after a close race that had put his lengthy rule in jeopardy.

Netanyahu surged ahead after some last-minute debating in which he opposed Palestinian statehood and vowed continued settlement construction. Netanyahu has been prime minister for the past six years. Opinion polls indicated he was in trouble, giving chief rival Isaac Herzog's centre-left Zionist Union a slight lead. Exit polls showed the two sides deadlocked.

"Against all odds, we achieved a great victory for the Likud," Netanyahu told supporters at his election night headquarters, declaring victory even before final results were known.

Please login or register to see the full article

 

| | |
| --- | --- |
| Israel and Jordan sign "Seas Canal" agreement | |

A significant agreement was signed recently between Israel and Jordan in February.

Israel's Regional Cooperation Minister Silvan Shalom signed the "Seas Canal" agreement with Jordanian Water and Irrigation Minister Hazim El-Naser at a ceremony attended by dignitaries from both sides as well as  representatives from the World Bank and the US embassies in Israel and Jordan.

The agreement sets relations between Israel and Jordan regarding implementation of the first stage of the "Seas Canal" project, including the construction of a desalination plant north of Aqaba that would supply water to the Aravah region in Israel and to Aqaba in Jordan.

Residual saline brines will be piped to the Dead Sea via an approximately 200-km pipeline from the Red Sea to the Dead Sea in order to stabilise and save the latter. In the framework of the agreement, water from northern Israel will be piped to Amman.

Please login or register to see the full article

 

| | |
| --- | --- |
| A STAMP TO COMMEMORATE THE PHILIPPINES HELP TO RESCUE JEWS DURING THE HOLOCAUST UNVEILED | |

The Philippines and Israel reaffirmed their friendly relations when the governments of the two states issued on 29 January 2015 a joint stamp commemorating the Philippine rescue of Jews during the Holocaust.

The launching ceremony, held at the Community Hall of Rishon LeZion, came two days after International Holocaust Memorial Day on 27 January.

The Philippine version of the stamp was unveiled by Philippine Ambassador to Israel, Neal Imperial, Post Master General and CEO of Philippine Postal Corporation, Maria Josefina M. Dela Cruz and Business Lines Department Manager Enrique V. Tagle. The Israel version of the stamp was unveiled by Israel Post CEO and President Haim Elmozino, Rishon LeZion Mayor Dov Zur and Israel Philatelic Service Director Yaron Razon.

The joint commemorative stamp features the national flags of the Philippines and Israel and the Open Doors Monument. The monument, which was unveiled on 21 June 2009 at Holocaust Memorial Park in Rishon LeZion, honours the humanitarian act of Philippine President Manuel L. Quezon in saving the lives of Jews fleeing the Holocaust from 1939-1942 through the issuance of around 10,000 visas. About 1,300 Jews reached the Philippines.

In his opening remarks, Ambassador Imperial said, "This humanitarian act not only resulted in saving the lives of a large number of Jews and their succeeding generations; it no doubt influenced as well the Philippine vote in favour of United Nations Resolution 181 in 1947, which helped create the State of Israel. These two acts, almost a decade apart and pursued by two different Philippine governments, had one common denominator: a consistent commitment to provide a home for the persecuted Jews."

Please login or register to see the full article

 

| | |
| --- | --- |
| Japan's Orchid Festival has Israeli presence | |

Israel's Ambassador to Japan, Ruth Kahanoff represented Israel in Japan's Grand Prix International Orchid Festival which was recently held in the Tokyo Dome.

The festival which ran from 14-22 February, is the largest orchid festival in the world. The festival has been held annually since 1991.

Israel's orchid table display, was designed by Ambassador Kahanoff and contained an assortment of Judaica and Israeli elements such as a Menorah and an ancient vase. Her highness Princess Takamado, who is the patron of the flower show, paid a visit to the Israeli stand.

Please login or register to see the full article

 
<< Start < Prev 1 2 3 4 5 6 7 8 9

10

Next > End >>