| | |
| --- | --- |
| DLD Tel Aviv Digital Conference looking for Philippine representation | |
DLD Tel Aviv Digital Conference, Israel's largest international hi-tech gathering, is looking to the Philippines for innovative ideas. The gathering is a showcase of the best startups that will be the future trailblazers in the technology market.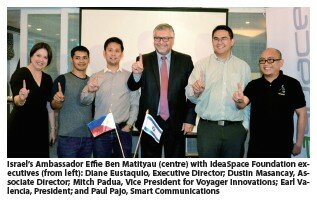 DLD brings together venture capital funds, investors, inventors and leaders who are the foundations of the hi-tech industry.
This is the first time that the Philippines will participate in this international gathering, which will be held from 6 to 12 September, 2015. The winner will be able to present his or her innovative idea to industry leaders who could help move the idea to implementation, commercialisation and recognition.
IdeaSpace Foundation, a non-profit startup incubator, and the Embassy of Israel in the Philippines are launching a competition and search for the best innovative idea to represent the Philippines in this international event. Interested startups need to have revenue of less than US$30,000, must have raised investment of less than US$1000, and must have developed at least a working prototype.
The foundation and the embassy are encouraging qualified individuals to submit applications. The winner will receive a full travel package including round-trip flights to Israel and accommodation during the international event.
Please login or register to see the full article