| | |
| --- | --- |
| Moses Samuels, Myanmar's Jewish community caretaker, dies | |
The leader of Myanmar's small Jewish community and the caretaker of the country's only synagogue has died.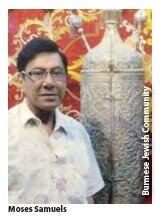 Moses Samuels, 65, passed away on 29 May, his son, Sammy, wrote in an email obtained by Coconuts Yangon, a media source. No cause of death was identified, but Samuels had been battling cancer for several years.
"For over 35 years he has been taken care [sic] of Yangon Synagogue and the Jewish community," Sammy Samuels wrote. "And he made sure [of] keeping the Jewish Spirit alive in Myanmar. He is great person with very good heart. His legacy will continue to live in the hearts and minds of everyone who came across to know him. May Hashem [the Lord] bless his Soul."
The Samuels family has looked over the Mesmuah Yeshua synagogue in Yangon – Myanmar's former capital and largest city, with a population of over five million – for generations. Moses Samuels inherited the task of synagogue caretaker from his father and grandfather. Now his son will assume the role of keeping the synagogue open.
Samuels is survived by his wife, Nelly; his son, Sammy, and two daughters, Dina and Kaznah, who graduated from Yeshiva University in New York a few years ago.
Before WWII, Myanmar's Jewish community flourished, and Yangon's synagogue had 126 Torah scrolls. It also has a Jewish cemetery. Today it is estimated that only a few dozen Jews remain in the country.
Russell Austin, a Hong Kong Jewish community member, was recently in Myanmar. He told Jewish Times Asia: "I was saddened to hear this, especially as I had the pleasure of meeting Moses during my recent visit to Myanmar in March and enjoyed visiting the shul in Yangon. Whilst I only met Moses for a short time, he was a lovely man and very pleased to meet and help any visitors and show them around the lovely shul."
Please login or register to see the full article