| | |
| --- | --- |
| India's B'nei Menashe visit Joseph's tomb | |
Some 2,700 years after their forefathers were exiled from the Land of Israel, some members of the B'nei Menashe visited Joseph's Tomb in Nablus for the first time.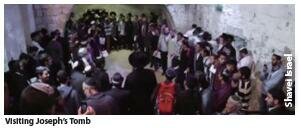 The bones of Joseph, the father of Menashe and Ephraim, are concealed in the heart of the city, which is now controlled by the Palestinian Authority.
Members of the B'nei Menashe laid themselves out on Joseph's Tomb and on his son Menashe's tombstone next to it.
Only a year ago, the descendants of Joseph were in the process of fulfilling their dream of generations to make Aliyah and immigrate to Israel.
The Shavei Israel organisation initiated this opportunity to visit their forefather's tomb.
Please login or register to see the full article