| | |
| --- | --- |
| Israel to hire 20,000 Chinese construction workers | |
Israel plans to bring in 20,000 Chinese construction workers to help build new apartments as part of efforts to lower housing costs, Israel's Prime Minister Benjamin Netanyahu announced in September. The Finance Ministry later said the cabinet had approved it.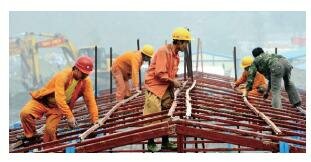 Attorney General Yehuda Weinstein has opposed the move because the two countries lack a formal agreement related to such co-operation.
The lack of an agreement can lead to immigrant workers paying middlemen hundreds or even thousands of dollars to obtain permits.
Chinese workers are currently brought into Israel under private contracts between Israeli and Chinese companies. The two countries have engaged in negotiations on working conditions, but have not yet reached an accord.
A statement from the Finance Ministry said that due to the urgency of the matter, the workers would be brought in without a bilateral agreement, while mechanisms would be created to ensure their rights were protected and to prevent them from paying middlemen for permits.
Please login or register to see the full article