| | |
| --- | --- |
| Japan gets first-ever Chief Rabbi | |
The head of Tokyo's Chabad House, Rabbi Binyamin Edery, has been officially named as Japan's first Chief Rabbi by the Diet (Japan's national legislature).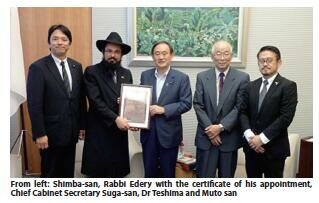 Rabbi Edery has served as head of the Chabad House for 16 years. The Chief Rabbinate in Israel had considered the post for a Chief Rabbi for Japan for the past three years, and had proposed Rabbi Edery.
However for various internal reasons, Japan did not officially endorse him until recently. A ceremony confirming his appointment took place in September.
Rabbi Edery was presented with official credentials by the Japanese government's official representative, Yoshihide Suga.
Please login or register to see the full article