| | | |
| --- | --- | --- |
| H&M retail outlet pulls tallit-like scarf from stores | | |
The Swedish retail chain H&M has apologised for marketing a Jewish prayer shawl-like fringed scarf, saying the item will no longer be sold in Israel.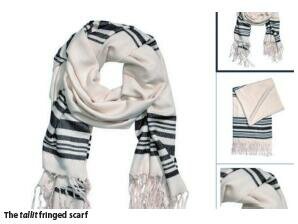 "We are truly sorry if we have offended anyone with this piece. Everyone is welcome at H&M and we never take a religious or political stand," the retailer said, according to Women's Wear Daily. "Our intention was never to upset anyone. Stripes is one of the trends for this season and we've been inspired by this."
The striped, beige scarf drew attention when its resemblance to a tallit, or Jewish prayer shawl, sparked debate on social media. The company also sells a similar poncho, and in 2011 marketed another tallit-like poncho. The scarf will still be available outside Israel, but "the quantities were small and the products are no longer available in some markets," including Israeli stores, "following a local decision of removal," H&M said.
(Issue February 2016)