Regional
| | |
| --- | --- |
| Ormoc City receives toy gifts from Carmel School | |
Toys and gifts from Carmel School students' fundraising activities were recently despatched to Ormoc City in the Philippines, where IsraAID has been set up after Typhoon Haiyan devastated the region in December 2013.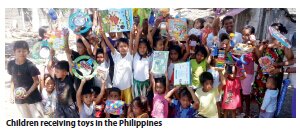 The intiative started last year, when the students were presented with a mysterious letter from a 'Magic Toy Maker' who invited the students to learn about different toys. He was leaving for a long vacation and said it was their responsibility to to make the toys.
Please login or register to see the full article
| | |
| --- | --- |
| Vietnam and Israel sign MoU on defence co-operation | |

Vietnam's Deputy Defence Minister Nguyen Chi Vinh and Director-General of the Israeli Ministry of Defence Dan Harel signed a Memorandum of Understanding on bilateral defence co-operation after talks were held in Hanoi, Vietnam on 2 March.

Deputy Defence Minister Nguyen Chi Vinh stated that the Israeli defence delegation's visit helped strengthen defence relations between the two countries.

He hailed the growth of bilateral defence co-operation during recent years positively contributing to the maintenance of peace, stability, development and prosperity of both countries as well as the region and the world.

Please login or register to see the full article

 

| | | |
| --- | --- | --- |
| ISIS recruits Korean | | |

South Korean officials say a teenager who went missing in Turkey last month is probably the first known South Korean to join the Islamic State group.

Opposition lawmaker Kim Kwang Jin said that the director of South Korea's National Intelligence Service, Lee Byungkee, told legislators in a closeddoor meeting that the 18-yearold man is alive in Syria and with an Islamic State group unit that trains combat personnel.

(Issue April 2015)

 

| | |
| --- | --- |
| Hong Kong to host second delegation of injured soldiers | |

Following the enormous success of last year's visit by a delegation of injured Israeli soldiers, Hong Kong is getting ready to host its second delegation from Israel's Hope for Heroism, also known as Ach'im L'Chayim ("Brothers for Life") at the end of April.

The organisation was founded in 2007 to assist injured soldiers getting their lives back together, and now assists around 500 injured soldiers.

The idea of bringing the delegation to Hong Kong in 2014 was initiated following Hong Kong's participation in the 2013 Maccabiah Games, and was spearheaded by Omri Mizrahi, together with a committee comprising of Doron Nagar, Ronen Zion and Jason Webber.

The 2015 delegation will be led by Pini Shwartzman, a former Givati special unit commander who was injured during Operation Defensive Shield and the Second Lebanon War.

"Ach'im L'Chayim foundation is one of a kind. No other organisation in Israel, private or governmental, offers the brotherly love and support they need so much after suffering devastating trauma," said Doron Nagar.

Please login or register to see the full article

 

| | |
| --- | --- |
| Asian presence at IMTM Travel Fair | |

About 30 countries recently participated in the 2015 International Mediterranean Tourism Market (IMTM), which was held at the Israel Trade Fairs and Convention Center in Tel Aviv in February. There was large Asian presence, with participanting countries including India, Japan and South Korea.

The IMTM fair is the annual event of Israel's tourism industry. It is organised by the ORTRA company and Israel Travel News in cooperation with the Tourism Ministry, and is sponsored by different commercial bodies.

The fair attracts professionals in the incoming tourism and domestic tourism industries, as well as tourism officials from Israel and around the world.

"The countries participating in this year's fair prove the importance of Israeli tourism in the world," says Israel Travel News editor and publisher Eyal Shmueli, one of the event's initiators. "One can definitely say that many countries are focusing their attention on the Israeli tourist."

Please login or register to see the full article

 
More Articles...
Shavei Israel organises annual seminar for B'nei Menashe fellows
Diplomatic Red Cross Bazaar
South Korea and Israel to host creative economy contest
<< Start < Prev

11

12 13 14 15 16 17 18 19 20 Next > End >>