| | |
| --- | --- |
| Book review: Shanghai's Baghdadi Jews: A Collection of Biographical Reflection | |
Shanghai's Baghdadi Jews: A Collection of Biographical Reflection is a compilation of 26 biographical accounts from the entire spectrum of the Shanghai Baghdadi communit, from the strictly observant to the wholly secular, as well as the moneyed, middle-class and poor men and women who made the port of Shanghai their home.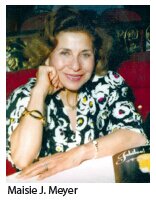 The compilation offers insights into a remarkable community that lived through the crossroads of China's 20thcentury history. Using previously unseen archival material, Dr Maisie Meyer documents the rise and fall of larger-than-life personalities who witnessed the Sino-Japanese War, the Occupation of Shanghai and the Communists' rise to power.
Photographs illustrate the lives of these people and the magnificent, cosmopolitan city they called home.
This ground-breaking book provides the opportunity for genuine self-expression to members of the community who have so far not been heard, and amongst them, those who have since passed away. The narrative offers perspectives of personalities whose lives were shaped by crucial historical events, and fresh insights into the day-to-day lives of this remarkable community.
Using previously unseen diaries and archival material, the editor has written five biographies, unveiling new perspectives and details of the lives of Sir Victor Sassoon and the family of Sir Elly Kadoorie.
Please login or register to see the full article