| | |
| --- | --- |
| Thai court frees Israeli on death row but another remains | |
The Supreme Court in Bangkok has acquitted 39-yearold Israeli national Vladimir Agronik after eight years in prison, accepting that he had no connection to another Israeli on death row for same offence.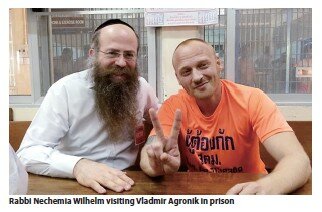 Agronik, who has spent eight years on death row in Thailand for selling drugs, was set free by a Thai court in May and has since returned to Israel.
The court accepted his claim that he had no connection to the drugs found in the apartment of another Israeli, Alon Yigal Mahluf. But the court rejected the appeal by Mahluf, who was also sentenced to death. He was given 60 days to seek clemency from the Thai king. The two Israelis were arrested in December 2007 after 23,000 ecstasy pills found in Mahluf's home. They were both found guilty and sentenced to death. They petitioned the Supreme Court after their appeal to a district court was rejected.
The two men were jailed together in the wing for prisoners on death row, in dire conditions. Agronik maintained his innocence throughout, insisting he did not know Mahluf before, and had no connection to the drugs whatsoever.
Rabbi Nechemia Wilhelm, the Chabad emissary in Thailand who has supported Agronik over the past eight years, met with him after he was freed.
Please login or register to see the full article