Arts & Culture
| | |
| --- | --- |
| Art Garfunkel to perform in Israel | |
American singer/song writer, Art Garfunkel, best known for his partnership with Paul Simon in the duo Simon & Garfunkel, is expected to perform the duo's greatest hits during a concert in Israel at the Bloomfield Stadium in Jaffa on 10 June.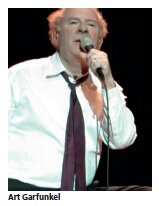 Garfunkel was born to a Jewish family in Queens, New York City in 1941. He met Paul Simon, who is also Jewish, in the sixth grade in 1953 and the two began performing as a duo four years later. In 1963, they officially became known as Simon & Garfunkel, with a debut album that kicked off the glorious career of one of the most famous and successful groups in the 1960s and in the history of music.
Simon was mostly responsible for creating the songs, while Garfunkel was the wonderful vocalist with the memorable voice from one of the duo's greatest hits, Bridge Over Troubled Water.
Simon & Garfunkel released many other huge hits, including Mrs. Robinson, The Sound of Silence, The Boxer and 50 Ways to Leave Your Lover, which shaped an entire generation in America.
Please login or register to see the full article
| | |
| --- | --- |
| Opera Gallery presents French painter André Brasilier: On Idle Shores | |

Opera Gallery will present the first major solo exhibition of celebrated French painter André Brasilier. On Idle Shores illustrates the artist's most notable themes as a wanderer and observer of life's subtle simplicities.

The show will take place from 7 to 31 May as part of this year's Le French May — one of the largest cultural events in Asia celebrating French heritage and organised by the Consulate General of France in Hong Kong and Macau.

André Brasilier's life on canvas has spanned over 60 years. His career began in the 1950s at the École des BeauxArts and has since included major retrospective exhibitions in France, Japan, and the Hermitage in St. Petersburg. With a prolific oeuvre and a style eluding classification, Brasilier is among France's most important and distinguished living contemporary artists. With their quintessentially romantic backgrounds, Brasilier's paintings reflect the contemplative selfawareness that renders his work universally accessible and fundamentally humanist.

This exhibition marks the third and final destination for the artist's touring exhibition with Opera Gallery, which has taken place over the course of three months in three gallery locations: Seoul (March 2015), Dubai (April 2015) and now Hong Kong.

Please login or register to see the full article

 

| | |
| --- | --- |
| List of Auschwitz inmates found in Polish school library | |

Historians at the Auschwitz memorial and high-school officials in central Poland are trying to determine how a list of 15 Polish and Jewish inmates of the Nazi death camp made it into a school library book.

A typewritten page, stained and with edges burnt, was found last month inside a 1923 Polish book on the history of warfare, during a library stock-taking at the 2nd Lyceum in Lodz, some 200 kilometres from the former camp. "We have no idea how or when it came to be in this book," school director Jadwiga Ochocka told the Associated Press (AP).

Auschwitz museum spokesman Pawel Sawicki commented that historians have no doubt it is authentic, but will still submit it to tests to confirm that. Sawicki said the find is all the more precious for the fact that the Nazis burned most of Auschwitz's archives when they were readying to evacuate the camp in January 1945. Dated 21 May 1941, it bears the names of inmates brought to Auschwitz that day from Lodz, Poznan and Katowice. The same names are a longer list of 28 inmates brought in that day, which is held in the museum's archives. According to historians, eight of the inmates on the list died in Auschwitz.

Please login or register to see the full article

 
More Articles...
Largest-ever gold coin haul found in Caesarea
A conference on archaeology to take place in Israel
Land of Smiles to debut in Hong Kong
<< Start < Prev

11

12 13 14 15 16 17 18 19 20 Next > End >>