| | |
| --- | --- |
| The Chinese lady who joined the Ashkenazic people | |
In recent years, advances in genetics have enabled scientists to pinpoint our origins and relationships to specific geographic regions and ethnic groups with a fairly high degree of accuracy.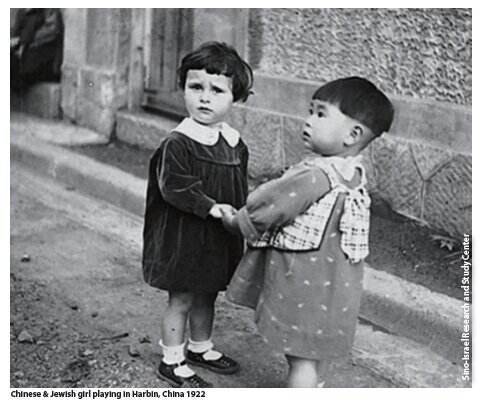 Geneticists nowadays examine mitochondrial DNA, which passes from mother to child, Y chromosomal DNA, which passes from father to son, and autosomal DNA, which derives from a multitude of ancestral lines and typically picks up portions of the genetics of all sixteen of an individual's greatgreat-grandparents. By following the trails blazed by all three types of DNA, including patterns of mutations in the uniparental types, one can reconstruct a compelling narrative of migrations related to an individual or an ethnic group.
Jews of all kinds, but especially Eastern European Ashkenazic Jews, have been eager to take DNA tests to learn more about their deep ancestors and relatives, since the paper trail of vital records from the Russian and Austrian empires runs cold for most families before the early-to-mid 19th century and most surnames were adopted relatively recently.
Ashkenazim with ancestors from Eastern and Central Europe make up large portions of the testing pools of the top three American direct-to-consumer DNA testing companies – Family Tree DNA, 23andMe, and AncestryDNA – and have been recruited for numerous genetic studies over the past two decades.
Much of this research has established that the vast majority of Ashkenazic lineages trace back to Europe and the Middle East 2,000 years ago, with a large portion coming from ancient Israel and its environs. But this research has also turned up traces of unexpected roots.
Please login or register to see the full article
| | |
| --- | --- |
| A Hebrew lecturer from Indonesia | |

Indonesia may not have diplomatic relations with Israel, but in a wellknown state university in Jakarta, one Muslim woman teaches Hebrew language.

Her posture looks like average Indonesian women, slim and tiny sweet lady. When we met for this interview, she wore pale brown hijab to cover her head. Because of her hijab, I know she is Muslim. Awesome! Total surprise! I never thought I would meet with a Muslim lecturer who teaches Hebrew in the capital of Indonesia.

Indonesia is the largest muslim country in the world. For many Indonesians they only know the word "Jewish" from The Holy Quran or in the Bible. The Indonesian government only recognises six religions. They are Islam, Christianity, Catholicism, Buddhism, Hinduism and Confusius.

That is why I was surprised when I met Wiwin Triwinarti, Hebrew lecturer in Centre of Islamic Studies at University Indonesia (UI) in Jakarta, which is the most well-known state university in the country. Wiwin has been teaching Hebrew for 12 years. She learned and studied Hebrew in UI.

Please login or register to see the full article

 

| | |
| --- | --- |
| Students running to highlight global slavery | |

Last November as part of a global inititative, Hong Kong students took part in a charity race. The project called The 24 Hour Race by Running To Stop the Traffik is the biggest student-run charity organisation in Asia. Their vision is very clear – a world free from modern-day slavery and human trafficking.

The 24 Hour Race is an international youth-focused endurance event aimed to combat human slavery. Since 2010, the 24 Hour Races have engaged more than 1,500,000 youths in the fight against modern-day slavery, and raised more than US$300,000 for grass roots anti-human slavery charities in the process.

On 15 November from 9 am through to 9 am on 16 November more than 1000 students took part and ran simultaneously in Hong Kong, Singapore and Kuala Lumpur to show their family, friends, colleagues and community that they care about fighting against human slavery.

Through their fund raising efforts the Hong Kong runners raised HK$2 million for their beneficiary charity, Freedom Matters, a UK registered charity, where most of the project work is currently conducted in Nepal fighting trafficking and modern day slavery. The charity's primary focus is the rescue, protection and rehabilitation of children and young people from conditions of enslavement, violence or exploitation.

One of the participants was Sarah Davidson a student from Elsa High School. "Over the past few years I have learnt about and raised awareness for modern day slavery. There are approximately 27 million slaves in the world today; a number that I have yet to comprehend myself," said Sarah.

Please login or register to see the full article

 
<< Start < Prev 1 2 3 4

5

6 7 8 9 10 Next > End >>


Page 5 of 51