| | |
| --- | --- |
| Anzac Centenary Service at The Great Synagogue | |
I had the immense honor and privilege to recently attend a special centenary Anzac Day service with my father, Ellis Goldberg, aged 94, a WWII veteran, at The Great Synagogue in Sydney, Australia on Sunday 3 May 2015.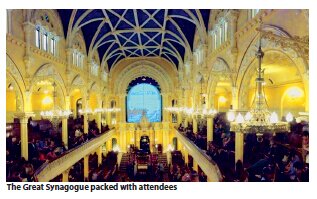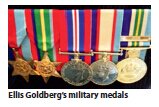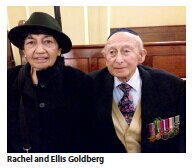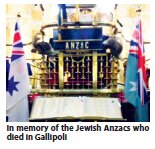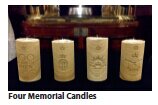 My father served in Australia and New Guinea during 1941 – 1946. The centenary anniversary of Gallipoli was for the Australian Jewish armed forces that their lost their lives 100 years ago in Gallipoli Turkey.
Anzac Day for Australians commemorates the sacrifice Australians made in the tragic events in Gallipoli from 25 April 1915 until the end of WWI in 1918.
At dawn on 25 April 1915, Australian Allied Forces landed on the Gallipoli peninsula in present-day Turkey, with the hope of securing the Dardanelles and thus allowing the imperial fleet to go all the way to Constantinople.
If all went well, it was Winston Churchill's impassioned view that the Ottoman Empire would be knocked out of the war. It did not go quite as they planned. In 1915 there were 20,000 Jews in Aus-
tralia. 2,000 Australia
Jews joined in the First
World War. 300 Jewish Australian armed personnel lost their lives in Gallipoli.
The Prime Minister of Australia Tony Abbott also addressed the audience of 1000 strong. The most moving speech was given by the Governor of New South Wales David Hurley, who spoke of the last Jewish Australian soldier Gregory Sher 2009 who lost his life in 2009 in Afghanistan.
Please login or register to see the full article
| | |
| --- | --- |
| A day on campus at IDC Herzliya | |

To mark IDC Herzliya's 20th anniversary, we spent a day following Prof. Uriel Reichman, IDC's founder and president, and Jonathan Davis, VP for External Relations, around its delightful campus.

Walking around the campus with Prof. Reichman, and Jonathan Davis,VP and Head of the Raphael Recanati International School (RRIS), one can not help but be amazed by the rapid evolution of this prestigious academic institution.

Only 20 years ago, the site was still an abandoned IDF air force base, while today Israel's first privately-owned university is brimming with activity. New buildings are being built to meet the demand for its constantly expanding range of academic programmes. Near the main entrance, the building that will house the new Adelson School of Entrepreneurship is under construction, while on the northern edge of the campus the new Baruch Ivcher School of Psychology building is only one year old.

Full academic degrees in English

It's Sunday morning, and as Prof. Reichman and Mr. Davis walk towards the cafeteria, stopping several times on the way to greet students and faculty members, they can't help noticing IDC Herzliya's heterogeneous student body. This diversity reflects the university's mission statement which stresses the importance of social responsibility.

Please login or register to see the full article

 

| | |
| --- | --- |
| Chinese silver-making has Jewish roots | |

Adrien von Ferscht is the only academic in the world who has been actively carrying out in-depth research into the 1,400-year tradition of Chinese silvermaking. He also happens to have dual Israeli and British citizenship, and is about to settle in Beijing in order to run the newly his newly opened Research Institute at Tsinghua University.

Although at first glance the subject area might appear somewhat niche, it is actually a highly complex subject that straddles many academic disciplines. Some three years ago it was Adrien who discovered that the reason Chinese silver in the early Sung Dynasty was overtly "Persian" in appearance was because the art of silver-making was introduced into China by the Sassanians [Sassania being modern-day Iran and where the city of Susa, of Purim fame, was located].

Many of the Sassanian silversmiths were Jews, but they were highly unusual, given that they were remnants of the first exile and as such were what we know as Pre-Hasmonean Jews – they had no knowledge of a second temple having been built and as a result did not celebrate the Festival of Chanukah. It is also for this reason that the first synagogue built in Kaifeng loosely followed to footprint of the first temple.

It was these Jews who eventually settled in the Chinese city of Kaifeng. Coinciding with that mass migration to China, the style of silver produced in China became what we would recognise as being "in the Chinese style". Silversmiths still exist in China who can trace their roots back to Kaifeng; one single operating silversmith still lives there!

Please login or register to see the full article

 
<< Start < Prev 1 2 3

4

5 6 7 8 9 10 Next > End >>


Page 4 of 51